Call of Duty: Modern Warfare 2 is a first-person shooter video game developed by Infinity Ward and published by Activision for the Xbox 360 andPlayStation 3 video game consoles and the Microsoft Windows operating system. Officially announced on February 11, 2009, the game was released worldwide on November 10, 2009. It is the sixth installment of the Call of Duty series and the direct sequel to Call of Duty 4: Modern Warfare, continuing the same storyline, with Call of Duty: Modern Warfare 3 set to end the storyline. It was released in conjunction with two other Call of Duty games: Call of Duty: Modern Warfare: Mobilizedfor the Nintendo DS, and Call of Duty: Modern Warfare: Reflex, a port of Call of Duty 4 adapted byTreyarch for the Wii console. In addition, a comic book series based on one of the game's characters was also produced, entitled Modern Warfare 2: Ghost.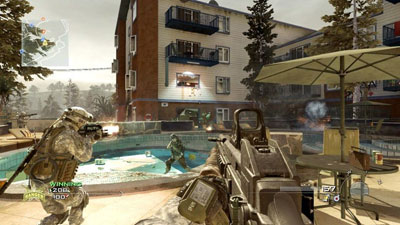 Modern Warfare 2 has received positive reviews from various gaming websites, attaining a 94% aggregate score on Metacritic, with praise stemming primarily from its in-depth multiplayer component. Within 24 hours of release, the game sold approximately 4.7 million copies in North America and the United Kingdom. On August 3, 2011, Activision confirmed that the game had sold over 22 million copies worldwide and it is the second best-selling game of all time in both the UK and the U.S.
System Requirements
:
OS:: Microsoft Windows XP or Windows Vista (Windows 95/98/ME/2000 are unsupported)

Processor: Intel Pentium 4 3.2 GHz or AMD Athlon 64 3200 processor or better supported

Memory: 1 GB RAM

Graphics: 256 MB NVIDIA GeForce 6600GT or better or ATI Radeon 1600XT or better

DirectX?: Microsoft DirectR) 9.0c

Hard Drive: 12GB of free hard drive space

Sound: 100% DirectX 9.0c compatible sound card

Internet: Broadband connection and service required for Multiplayer Connectivity. Internet Connection required for activation.

Co-op/Multiplayer Hosting: To host Co-op or MP matches, a 2Ghz dual-core or better processor is recommended.
Call of Duty 6 Modern Warfare 2